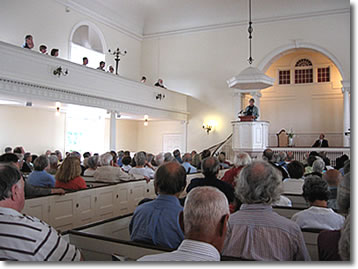 The Monadnock  Summer Lyceum presents world class speakers  on summer Sunday mornings  in the historic Peterborough Unitarian Universalist Church. Our mission is to inform, to engage, and to inspire.
Join us for enlightening presentations on social, political, educational, cultural, scientific, economic, environmental and artistic topics of our time. Enrich your summer in Peterborough, NH, in the heart of the Monadnock Region.
Speakers begin at 11:00 am. Come at 10:30 to enjoy a live music  performance before the talk. The Lyceum is rebroadcast by NHPR on the following Sunday at 10pm.
All are invited to an informal reception following the presentation, when you will have an opportunity to engage with the speaker.
Wheelchair accessible.  Devices for the hearing impaired are available.
Parking is available next to the church courtesy of People's United Bank.
Presentations are free ~ donations accepted.